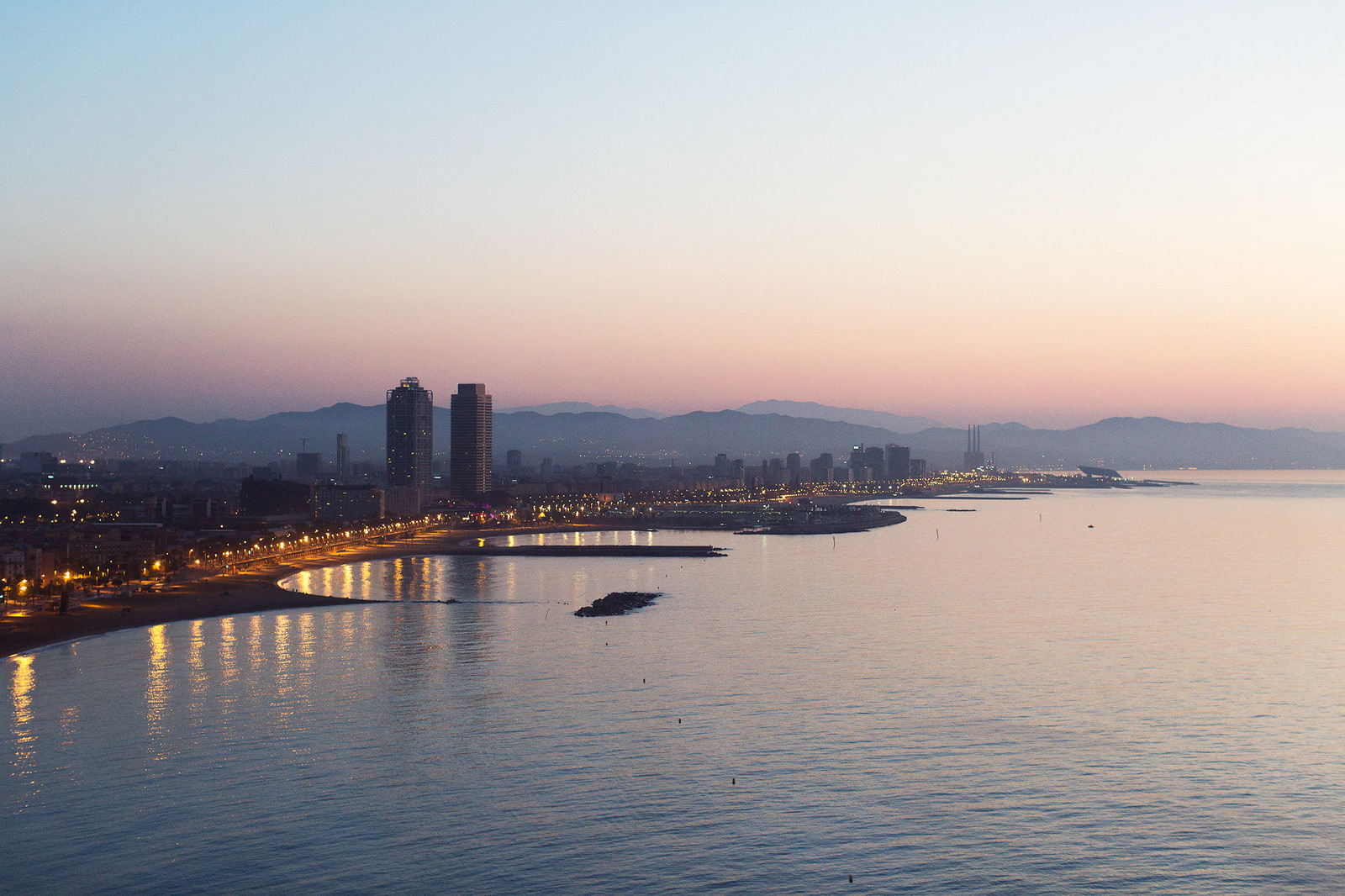 First things first. No matter how many time had you been to barcelona. You must hit Las Ramblas. Dive into the sensory overload that is this city's most famous avenue, with its 
bird
 markets, flower stalls, street musicians, mimes, overpriced tapas bars and hundreds upon hundreds of people — locals and tourists alike — out for an afternoon stroll. When you have had enough of the crowds (it won't take long), duck into the lovely, palm-tree-dotted Plaça Reial for a restorative break and perhaps an icy caña (draft beer; 2.30 euros, or about $3 at $1.35 to the euro) at Karma (Plaça Reial, 10; 34-93-3025-680), one of several cervecerías that line this historic square.
2) THE PERFECT SANDWICH? 7 p.m.
Café Viena
(La Rambla del Estudis, 115; 34-93-3171-492;
www.viena.es
), and its flauta d'ibéric d.o. jabugo, which is the best sandwich i had ever eaten — a simple, salty masterpiece of crispy bread and lightly cured ham. The lines of diners who crowd this tiny restaurant — sometimes two or three deep at the counter — surely agree. The flauta (accompanied by a caña poured from the porcelain and brass tap) is a perfect snack to tide you over until you can have dinner in about four hours. Total cost: about 8 euros.
3) HIGH ART, LOW COST | 9 p.m.
World-class musical performances in stunning architectural settings can be found at the renowned Gran Teatre Del Liceu — more than 150 years old and the survivor of three major fires and one bombing by anarchists — and the Palau de la Música Catalana, which features an over-the-top Catalan Modernist design by Lluís Domènech i Montaner. But more affordable classical music concerts — in an equally beautiful setting — are at the Basílica de Santa Maria del Mar (Plaça de Santa Maria; 34-93-3102-390), a lovely and elegant church in Born that dates from the mid-14th century. A recent weekend featured a performance of Mozart and Haydn by Musica Bohemica of Prague, with tickets at just 20 euros. Afterward, walk across the courtyard to join the stylish crowd gathered at La Vinya del Senyor (Plaça de Santa Maria, 5; 34-93-310-3379) for tapas and one of its many excellent
wines
featured by the glass.
4) HEATING UP, ICING DOWN |12:30 a.m.
South Beach meets Barcelona at the strip of open-air nightclubs along Passeig Marítim de la Barceloneta. With its elegantly appointed space and its inviting daybeds that couples lounge on as they drink the night away, the Carpe Diem Lounge Club (No. 32; 34-93-22404-70;
www.cdlcbarcelona.com
) has perhaps the highest profile of these beachside boîtes. But Shôko (No. 36; 34-93-225-9200;
www.shoko.biz
) seems to have the edge in youth and energy, while the neighboring icebarcelona (Ramon Trias Fargas, 2; 34-93-224-1625;
www.icebcn.com
), with its promise of a space cooled to minus 8 Celsius (that's 17.6 Fahrenheit; time limit is 45 minutes) has the quirkiest appeal.
5) MARKET RESEARCH | 10 a.m.
Join what feels like the city's entire population on a morning shopping expedition at the sprawling Boqueria (La Rambla, 91), which has been around, in one form or another, since the early 18th century. If a trip among the hundreds of stalls becomes a dizzying experience, grab a counter seat at the hugely popular tapas spot, Bar Pinotxo (34-93-317-1731), for a brief rest and a late morning bite. (Try the salt cod croquettes.)
6) THE ART OF THE EVERYDAY | 11:30 a.m.
There are some superb examples of present-day Catalan art at Museu d'Art Contemporani de Barcelona (Plaça dels Àngels, 1; 34-93-412-0810;
www.macba.es
), but the real show is in the adjoining plaza — a lively scene of whizzing skateboarders, young families on weekend outings and dozens of people waiting to ride makeshift go-carts fashioned out of unlikely pieces of furniture, from filing cabinets to rocking chairs.
7) EAT, SHOP, EAT |2 P.M.
The museum also provides an excellent jumping-off point for exploring the surrounding neighborhood for a few hours. Have lunch at Ánima (Carrer dels Àngels, 6; 34-93-342-4912) nearby, where a two-course set lunch — with dishes like a carrot and fresh thyme soup and tuna with pan-fried endives — costs just 10 euros. Afterward, wander the streets of El Raval, where you will find some of Barcelona's most interesting shops and fashion outlets, including one of the city's branches of the famed Camper shoe store chain (Plaça dels Àngels, 4; 34-93-342-4141). Then, before heading back to your hotel for a rest, stop by the ever-crowded BarcelonaReykjavik bakery (Carrer del Doctor Dou, 12; www.barcelonareykjavik.com; 34-93-3020-921) for its organic treats, like a delicious leek and olive oil bread (7.38 euros).
8) USING YOUR SENSES | 9 p.m.
The eight-course Sensations menu at the elegant Cinc Sentits (Carrer d'Aribau, 58; 34-93-3239-490; www.cincsentits.com) begins with a bracing shot glass of maple syrup, chilled cream, cava sabayon and a layer of rock salt; winds its way through Mediterranean tuna in smoked tomato water and Iberian suckling pig cooked sous vide; before finally ending up with olive oil ice cream and shattered bread. It's a superb progression of dishes — each accompanied with a well-chosen wine — and a memorable meal that will leave you sated but not stuffed. About 250 euros for two.
9) TONIGHT'S WE'RE YOUNG | 1:30 a.m
If you're not ready to call it a night (and few locals are at this hour), head to Dry Martini (Carrer d'Aribau, 162; 34-93-217-5080; www.drymartinibcn.com) for one of its signature drinks and its laid-back crowd. Or, if you want to check out a different kind of night life, walk a few blocks to Dboy (Ronda de Sant Pere, 19-21; www.dboyclub.com), the hottest gay club of the moment, where the shirtless crowd will still be going strong well past 5 a.m.
10) PICASSO, THE EARLY YEARS | 10:30 a.m.
While the rest of Barcelona is still asleep, probably having gone to bed just a few hours earlier, head to the Museu Picasso (Montcada 15-23; 34-93-256-3000; www.museupicasso.bcn.es), where you can have much of this sumptuous collection almost to yourself for a while. Entrance is 9 euros, and the museum is open 10 a.m. to 8 p.m., Tuesday through Sunday.
11) GATHER ROUND | 12:30 p.m.
Every Sunday, the Plaça de la Seu, which fronts Barcelona's imposing Gothic cathedral in the city's historic center, becomes a stage for aficionados of the sardana. The dancers — mostly women, elegantly dressed in full makeup and jewelry — toss their purses and jackets into the middle of a circle and then join hands as they master the intricate steps (and tiny hops) of this traditional Catalan dance. You'll probably be asked to donate a euro or two, as part of a collection for the band members playing on the cathedral steps.
12) A SEASIDE FEAST | 1:30 P.M.
Much of Barcelona seems to head to the seaside neighborhood of Barceloneta for a Sunday stroll along the waterfront. Watch the passing parade from an outdoor table at
La Mar Salada
(Passeig Joan de Borbó, 58; 34-93-221-2127) — one of the less-touristy restaurants along this busy strip — and have a lunch of excellently prepared calamari, followed by the house specialty, seafood paella, all accompanied by a crisp white Spanish wine. Lunch for two, about 55 euros.
For getting around the city, you can't beat the efficient and easy-to-navigate Metro system.

BEST SOLUTION is to get a T-10 card, good for 10 trips, for 7.70 euros.
9-room Omm (Carrer Rosselló, 265; 34-93-445-4000; www.hotelomm.es) is home to both an acclaimed restaurant and a happening late-night bar that attracts a healthy sampling of Barcelona's beautiful people. Rates start at about 240 euros.
Budget hotels don't get more stylish than the Market Hotel (Passatge Sant Antoni Abat, 10; 34-93-325-1205; www.markethotel.com.es). It's hard to find — tell the cab driver it is an alley off of Carrer del Comte d'Urgell, and about a block from the Sant Antoni Market — but when you do, you'll be amazed that rates at this impeccably designed, extremely comfortable hotel start at around 60 euros.
Elegance by the waterfront is the calling card of the Hotel Arts, a Ritz-Carlton, with its sweeping views of both the sea and the city (Marina, 19-21; 34-93-221-1000; www.hotelartsbarcelona.com). On a hot Barcelona afternoon, there is no more refreshing place to revive than at the hotel's pool overlooking the playful Frank Gehry steel-lattice "Fish" sculpture. Rates start at 325 euros for a double room, but can drop sharply if you opt for a nonrefundable reservation on the hotel's Web site.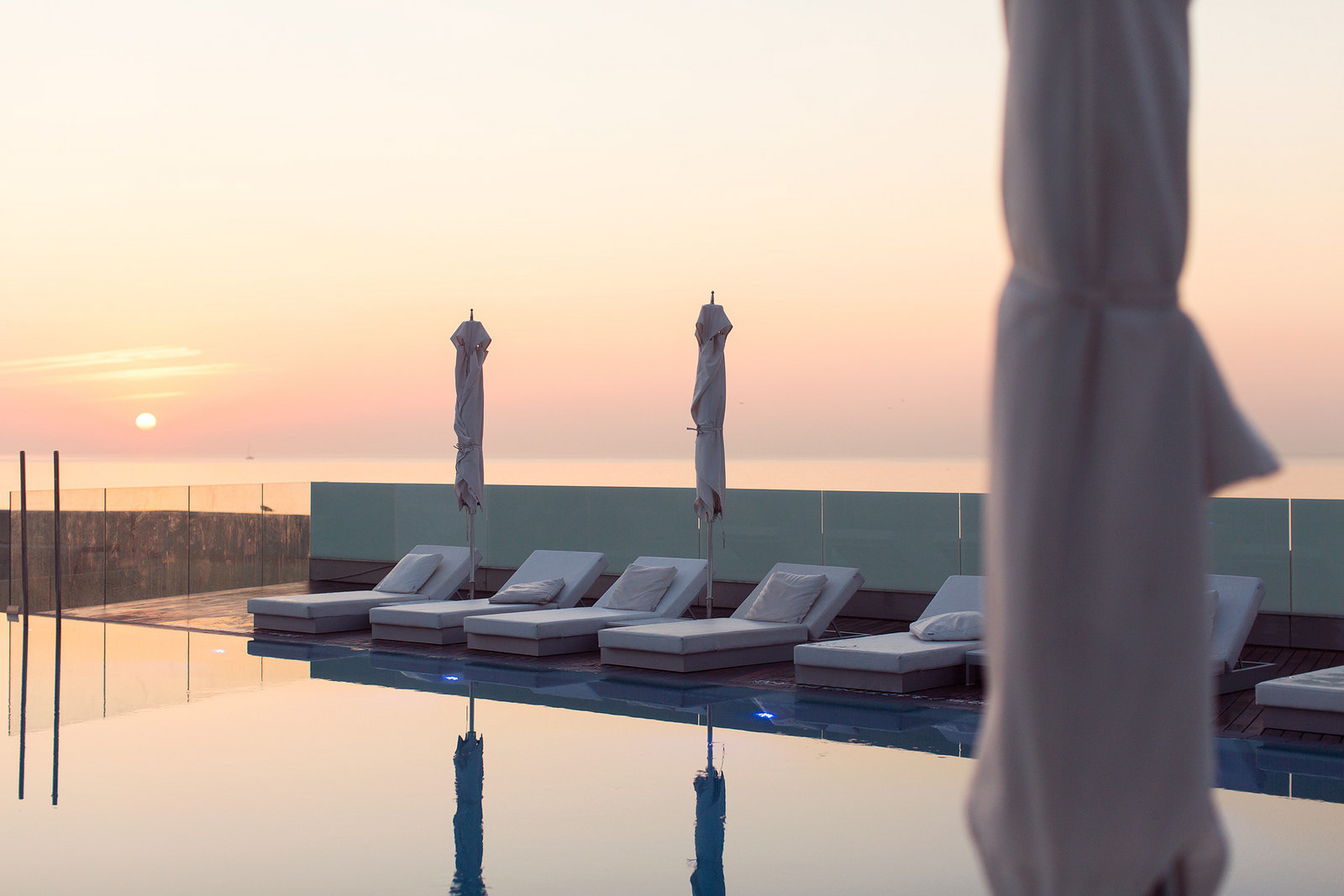 Barcelona is a city brimming with fantastical, inimitable architecture. And the sleek, sail-shaped W Hotel, designed by the Catalan architect Ricardo Bofill, is no exception.
Upon entering our 15th-floor "Wonderful" room (W's term),  View of the Mediterranean framed by wall-to-wall windows. The sea view was dazzling. An extended chaise longue that spanned the length of the windows was a cozy, pillow-strewn perch from which to soak up the panorama. Positioned in the center of the room facing the windows, the king-size bed had fluffy pillows, a goose-down duvet and 350-count Egyptian cotton sheets, so it felt like sleeping in a cloud (sky-high view included). A panel on the headboard controlled the curtains and lights, and the room was also equipped with a flat-screen TV, iPod dock and Wi-Fi (for which the hotel charges 5 euros per hour, about $6.50 at $1.31 to the euro, or 19 euros per day). The stocked mini-bar — or "Munchie Box" in W lingo — included lollipops, a Wallpaper guide to Barcelona and Havaianas flip-flops.