AND THIS IS HOW IT BEGIN, ITS ALL STARTED FROM THE BORESOME IT SEEMED TO FEEL FELT LONELY IN SUCH A BIG CITY, BIG COUTRY WHERE NOT TOO DEVELOPED, NOT TOO FANCY FOR ME. ITS ALL INSPIRED BY NOTHINGNESS, THE EMPTYNESS IT FELT LIKE,

ACTUALLY, I LOST MY BEST CAMERA I EVER HAD, ITS WAS NORMAL JUST LIKE THE COMPACT CAMERA FROM SONY, ITS PRETTY, LUXURIOUS, EASY TO CARRY. WHEN I WAS THERE. I WAS TRYING TO CAPTURE EVERY MEMORIAL MERRIMENT. SO I TOOK IT TO MY FRIEND'S HOUSE PARTY, WELL, I WAS JUST 16 SO I DRANK THEN OF COURSE.... I WAS DRUNK. AND FORGOT EVERYTHING...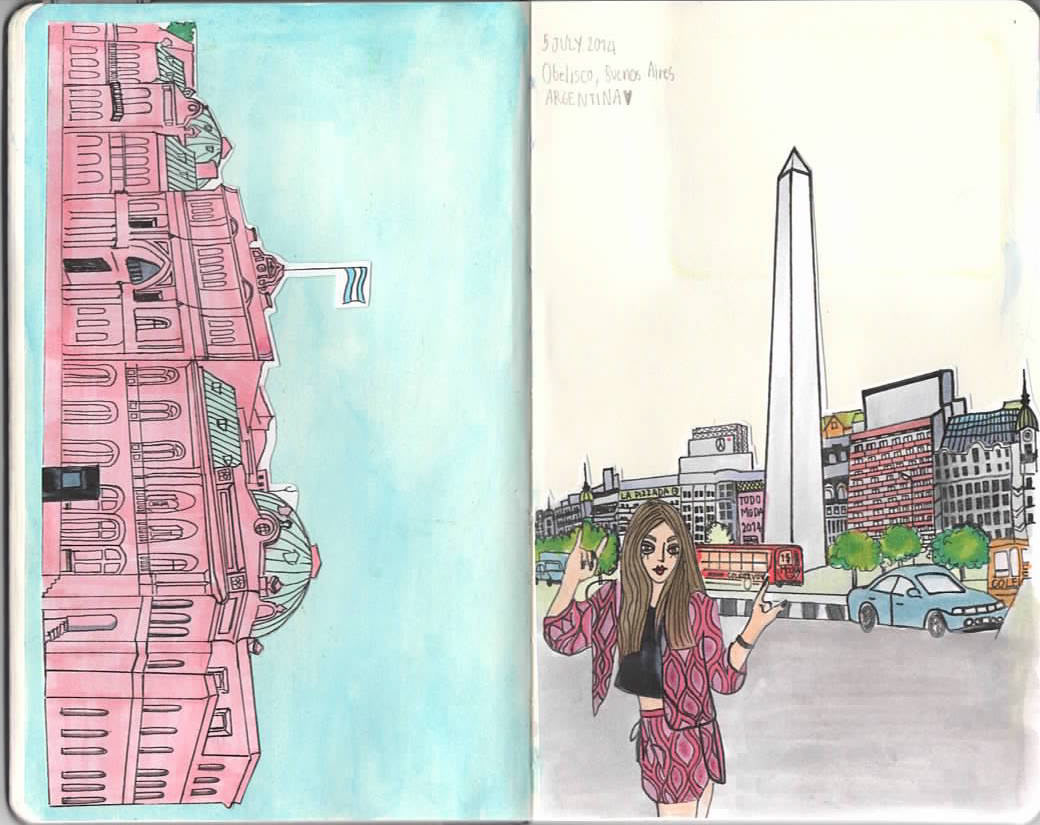 SINCE THEN, I STRATED TO DRAW EVERYTHING I SEE. EVERY SINGLE MONUMENT  I'D SEEN. AND I FOUND THAT IT WASN'T TOO BAD THOUGH! AFTER THAT MOMENT ALL MY CHILDHOOD MEMORIES WAS BROUGHT BACK. I REMEMBERED MYSELF SEWING FIRST BAG WHEN I WAS LESS THAN ONE YEAR OLD, I WAS IMITATING MY GRANDMA. MAYBE I SPEND TIME WITH HER SO MUCH, MUCH ENOUGH TO OSMOSIS HER PERSONALITY, HER HOBBY. I REMEMBERED HOW I WAS MAKING SCUPLT FROM NEWSPAPERS WITH MY KINDERGARTEN TEACHER(MISS DRAWER; BECAUSE SHE HAS EVERYTHING IN HER DRAWER, WHATEVER I COULD ASK, SHE HAS'EM ALL.) I REMEMBER HOW MUCH I LOVE TO STAY PAINTING AFTER SCHOOL WITH HER, MAKING MASK, SCARPING ETC. THEN I CAME TO THE REALISING POINT WHERE TELLING ME THAT "I FUCKING BORN THIS WAY" I MEAN I ALWAYS BEEN GOOD AT IT. THUS, THE SOCIETY THAT SHAPING ME TO TRY SOMETHING  ELSE THAT I DONT HAVE HAVE TALENT ABOUT IT AT ALL, SO ALL ID BEEN WAS; EITHER A LOSER OR JUST A "WANNA BE GIRL..."

AFTER THAT, I WAS ALL THE TIME DRAWING, AND DRAWING, IN THE CLUB, STILL DRAWING.
I LOVE IT ENOUGH TO THINK THAT SLEEPING IS JUST A WASTE OF TIME, FOR 8 HOURS I COULD DRAW LIKE 3-4 PICTURE, SOMEHOW THIS GOT ME TO THE POINT OF UNDERTANDING THAT FOR SOMETHING IT'S NOT ABOUT QUANTITY, IT'S ABOUT QUALITY. HOWEVER I'M A GREATEST BELIEVER THAT WHEN IT COMES TO ART THERE IS NO RIGHT OR WRONG, GOOD OR BAD, HI-DEFINITION OR NOT. ART IS ART. BACK THEN EVERYTHING GOT MORE COMPLICATED IN MY HEAD. AS WELL AS MY DEVELOPMENT IN COMPLEX COMPUTER SKILLS, I DISCOVER A NEW TOOL CALLED "DRAWING PAD, OR PEN TOUCH OR STH" WHATEVER IT IS, I DONT CARE, ALL I KNOW IS THAT THIS THING GOT ME HERE, MAKE ME CREATE SOMETHING EVEN MORE SOPHISICATED, CLEAN AND UNIQUE.
BACK THEN, NO ONE I KNOW USE THAT THING, SO I WAS LIKE THE MOST HIGH-TECH GIRL. HAHAHHA... AS IF! BUT WHATEVER...
"THAT WAS HOW IT STARTED, BUT NOT ALL OF IT"
TO  BECOMING ME, THIS PERSON, THIS BRAVE. IT'S TOOK ME LIFETIME OF PAIN AND PAIN, BUT YES, WE ARE STILL ALIVE SO.. NEVER GIVE UP OR GIVE EVEN GIVE IN.